Feeding the Hungry in Our Community
DID YOU KNOW?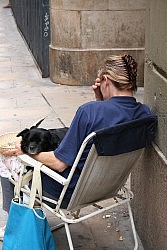 AS many as 240,000 people in Sacramento County, many of them children, are "food insecure". They are not only the homeless, but people on food stamps who are working but not earning enough to make ends meet. The Food Bank and Family Services is dedicated to helping these people, and our church has a long history of giving to this important charity. Arnie Godmintz directed "Together We Share" for many years, and the project was quite successful; but our basket has been holding fewer items recently.
Won't you support "Together We Share" by donating canned food, cereals, fresh fruit and vegetables, and even clothing? We can also take clothing and household items.
Please put your donations in the red shopping basket at the church main entrance on any Sunday, and volunteers will deliver your donations to the Sacramento Food Bank or to one of the food pantries located in the Sacramento area. We hope that you'll find this a convenient way to help others on a weekly or monthly basis.
Together We Can Share!
There is 1 Comment on this post.