Online Training
Don't be like this little guy!
Watch some videos so you know what you're doing!
Click any of the titles below to open up a video tutorial:
*make sure you watch them in FULLSCREEN and HD quality
(quick help for those who have already attended
a training or watched the online videos)
More videos and PDFs are being added all the time – check back often!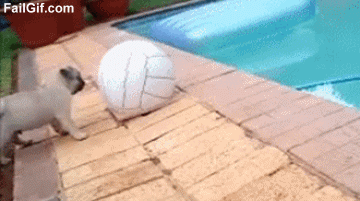 REFRESHER Video (3 minutes long) if you've already taken training...(NEW!)
You can quickly watch this after training to refresh what you learned.
Length: 3:00
Making Videos FULLSCREEN and HD Quality
How to make sure you are watching the videos correctly – in fullscreen and HD quality.
Length: 1:49
Logging In
How to log in, change your password, and change what your display name is on comments and posts.
Length: 4:07
How to Post to Your Group
The basics on how to post to your group. This is the most important video you will watch on this page!
Length: 6:46
How to Format Your Posts
Learn to make your posts look nice and fit in with the rest of the site!
Length: 7:45
Copy and paste below to follow along with the tutorial:
We are looking for judges to help judge the annual UUSS Cutest Puppy Contest. Our contest will be held on March 8th, 2015 at 12 a.m. cause that's when puppies look their cutest. Do you have the following skills or attributes: good eyesight, love of dogs, don't smell like bacon, impartial. Use this gallery to learn what a great looking puppy looks like. See you at the puppy show!
How to Make Links
Learn everything about making links.
Length: 5:59
Advanced Formatting
Everything else about formatting your text (except the kitchen sink).
Length: 12:57
Editing a Page (NEW!)
If you already know how to make posts and want to learn to edit the pages for your group this video will get you started. It doesn't go much in depth. But if you just want to be able to make simple edits to the text of your group's page this is for you.
Length: 5:00