…to discuss Margaret MacMillan's DANGEROUS GAMES: The Uses and Abuses of History at 7pm in the church. A reviewer has said about it, "In a world where the spin-doctor has replaced the historian, MacMillan reminds readers of the importance of dispassionate, fact-driven narrative, as opposed to reassuring or self-serving accounts that pass for history while burying unpleasant truths". All are welcome to join us–we love to have visitors.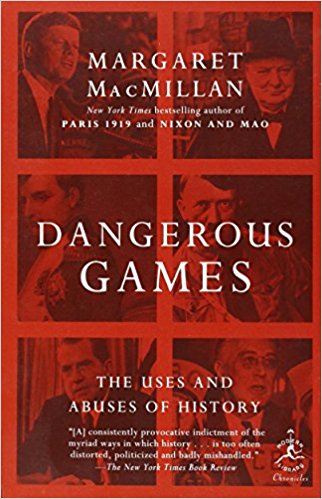 We have also selected books for the following five months. They are:
Aug 29 – Underground Railroad by Colson Whitehead,  Sept 26 – On the Move by Oliver Sacks,  Oct 31 – Sapiens: a Brief History of Mankind by Yuval Noah Harari, Nov 28 – Small Great Things by Jodi Picoult, and Dec 26 – Lab Girl by Hope Jahren.