Posted on September 28, 2016
In Spirit Play last Sunday, the students heard the Promises lesson. Throughout the year, we tell all kinds of stories in Spirit Play, but we ground those stories with foundation lessons. These lessons share the cornerstones of our Unitarian Universalist faith. The Promises lesson explains our seven principles and how these are connected to our UU community and the Spirit of Mystery, Love, and Truth some people call God.
One of the joys of storytelling in Spirit Play is seeing the students respond to the stories. As Spirit Play Storyteller, our role is to present the week's story and to create a space for the students explore it in their own way. Sometimes this exploration makes a clear connection to the materials. Other times, our adult minds won't grasp how they've made the connection. And that's ok. This is their time to explore. I hope you enjoy this week's example of what the students can create.
In addition to the stories and work time, we sing songs during Spirit Play. Spirit of Life is the favorite. It is a song that most of the regular Spirit Play participants know well. It doesn't take long for new Spirit Play participants to get the tune and the words, but they might welcome singing it at home between Spirit Play sessions to hasten learning it.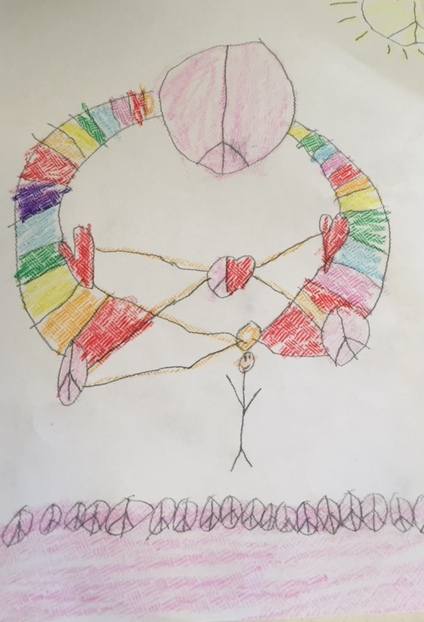 We look forward to seeing the Spirit Players again next Sunday, when they'll enjoy a day in the UUrth Song CommUUnity Garden. Don't forget to have your Spirit Player dress to get a little dirty!