Calling all Mommy & Me ESL Volunteers!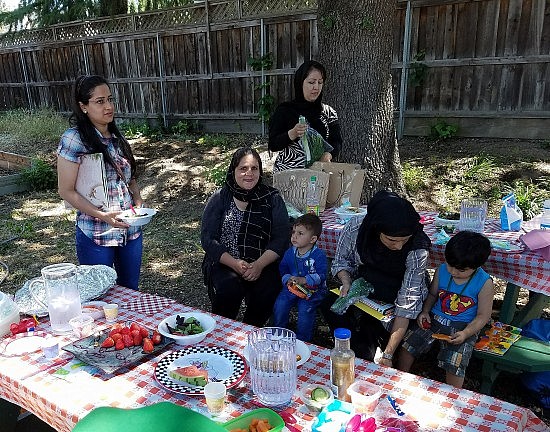 Our first term of Mommy & Me ESL classes at UUSS ended May 23 with a joyful garden picnic and celebration. Thank you to all the staff who joined us this term from Meg Burnett, the UUSS coordinator for our successful class to: Joan Rubenson; Nancy Lust; Susan Lange; Kathy Styc; Barbara Meierhenry; Doris Janes; and especially Dina Bostandzic and IRC guest teachers and interpreters.
The kids and moms are very grateful and have grown leaps and bounds in their learning about our Sacramento Community; healthy food and gardening; health and medical care knowledge; and how to read pre-school books to their children in English. The ladies have come to us with some background in English language or none. The ladies all helped each other with inspiring cooperation and friendship. The kids have grown from little strangers who often cried and threw toys to happily speaking and sharing with others in play, learning pre-school reading skills; table manners; and tidying up the room after playing. What a joy!
We are seeking more volunteer staff in our pre-school room beginning August 15 for our fall term. If you can become part of our team, please contact Meg Burnett at or leave a comment below.
For more inspiration, listen to the Beth Ruyak Capitol Radio interview from May 16 with one of our students, who also appeared in our Performing for Peace Art Show in March at UUSS.