White People Against Racism Workshop – Thurs. 11/10
Posted on November 6, 2016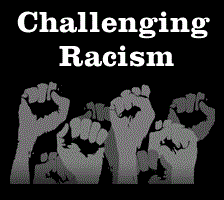 Organizing White People Against Racism
Thursday, November 10, 2016
5:30 – 8:00 p.m.
3980 McKinley Blvd.
White people play a central role in perpetuating racism.  White people also have the potential to become a consistent and powerful force to end racism in all of its manifestations.  This workshop, led by Joe Fahey, a white, longtime union and community organizer, helps white people face the enormity of racism without the defensiveness and guilt that can keep us frozen and silent.  In this interactive workshop, Joe offers an organizing approach and tools for talking and listening to people, and moving them forward.  Participants will share personal experiences, thoughts, and feelings about racism.  We will think about white people in our lives and ways to begin conversations about racism with them.  We will brainstorm actions we can take to challenge racism in everyday situations.  And, finally, we will plan next steps to apply these tools in our lives.
This free workshop is being offered at no charge in the home of longtime UUSS Member, Esther Franklin.  Refreshments will be served.  Donations will be collected for the Showing Up for Racial Justice (SURJ) Sacramento Chapter.
Due to limited space, there is a limit of 10 people that can be accommodated.
Please RSVP to David Jacobs at or call for more information.