Film Screening – "The House We Live In" – Sat. 12/16 @ 6 PM
Posted on December 11, 2017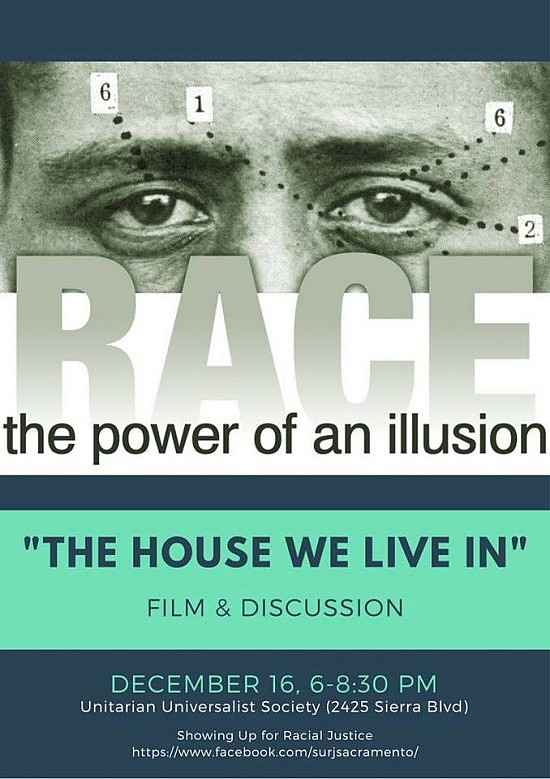 "The House We Live In" Film & Discussion
Saturday, Dec. 16 6:00 – 8:30 PM
Sophia Fahs Classroom – UUSS
This is the final episode of the PBS series "Race: the Power of an Illusion."
"The House We Live In" focuses on the ways our institutions and policies advantage white people at the expense of people of color.
The documentary traces the history of race and racism through the twentieth-century, examining the creation of whiteness, the history of housing discrimination, the racial wealth gap, and ending with an analysis of how "colorblindness" perpetuates racial inequality in the present day.
The film is just 55 minutes long. After we've watched it, we'll discuss the film, especially as it relates to housing discrimination and racial inequality in Sacramento.
Questions to think about:
1) Forty years ago, the Civil Rights Act declared that forced racial segregation was illegal. In light of this, why do you think some neighborhoods, schools, and workplaces are still segregated?
2) Who was allowed to become a naturalized citizen before 1954 and who wasn't? What were the consequences for those denied citizenship?
3) How did federal housing policies institutionalize segregation and wealth disparities?
This event is brought to you by the education subcommittee of Showing Up for Racial Justice, Sacramento.