Black Lives Matter: Jung, Race, and the Unconscious 9/27/16 @ 7pm
Posted on September 14, 2016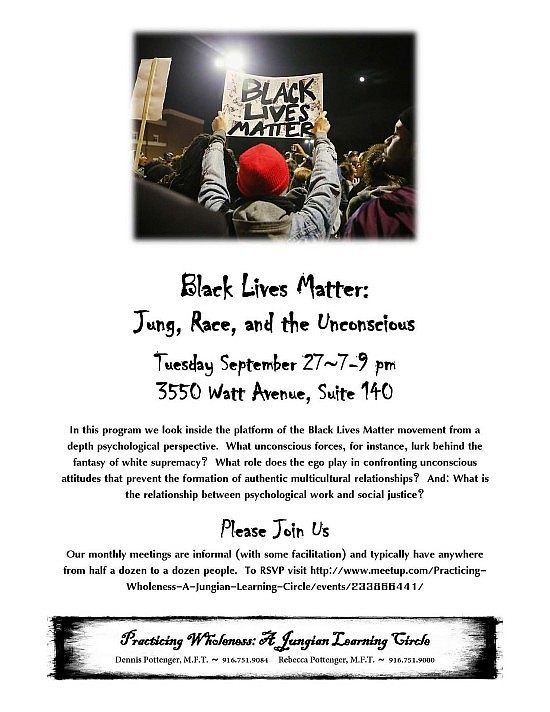 Please consider attending the upcoming Jungian Learning Circle hosted by UUSS board member and licensed therapist, Dennis Pottenger, on Tuesday, Sept. 27 from 7:00 – 9:00 pm at 3550 Watt Avenue, Suite 140.  This month's topic is Black Lives Matter: Jung, Race, and the Unconscious to explore the movement and the nature of racism from a psychological perspective.  RSVP by clicking here.
In the current clash between whiteness and blackness, racism and culture, important psychological questions press to be answered.  What unconscious forces, for instance, lurk behind the fantasy of White supremacy?  What role does the ego play in confronting unconscious attitudes that prevent the formation of authentic multicultural relationships?  And: What is the relationship between psychological work and social justice?
In this program we look inside the platform of the Black Lives Matter movement from a depth psychological perspective.  We look, in particular, at Jung's 1925 expedition to Africa.  In the autumn of that year Jung set sail from his home in Switzerland with two companions for British East Africa on an expedition commissioned by the British government to conduct ethnographic interviews with the Bugishu people.
Jung made the trip through Kenya and Uganda to the slopes of Mount Elgon to increase his understanding of "primitive psychology."  He later concluded that the major insights he gleaned while on safari had instead to do with himself and the European psychology in which he had been raised.