Piano Recital by Ina Jun
with Violinist Mary Blanchette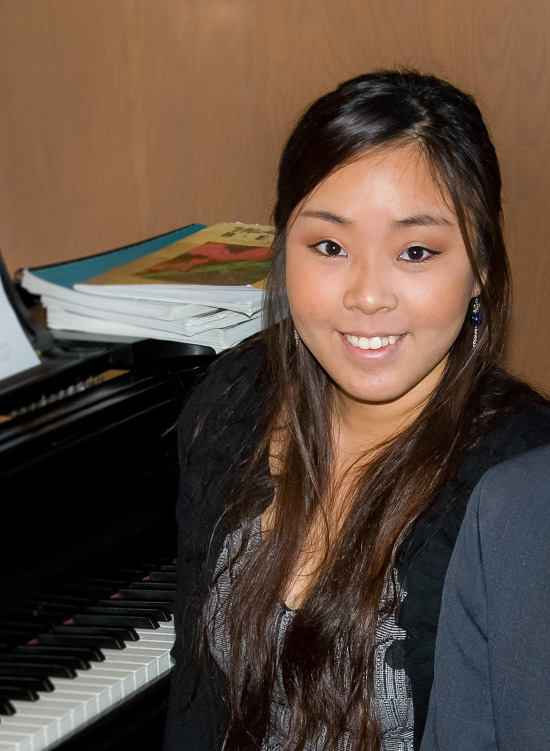 3:00 PM, Saturday, March 28, 2015
890 Morse Ave. (at Northrop), Sacramento Sierra Arden Congregational Church
Hosted by the  Unitarian Universalist Society
Tickets $10, $5 for students 25 and younger
A benefit for  My Sister's House, Sacramento
 Prelude and Fugue in C sharp major in book 1 by J. S. Bach
Waltz Op.64 No.2 by Frederic Chopin
Waltz Op.69 No.2 by Frederic Chopin
Ballade g minor op.23 by Frederic Chopin
"Ragtime" by Claude Bolling, with Mary Blanchette, violin
"All of Me" by Jon Schmidt
Pianist Ina Jun
 Worship and choral accompanist, Unitarian Universalist Society
Instructor at  New Songs School of Music, Elk Grove
B.A. in piano performance, summa cum laude, 2014
The Hartt School at University of Hartford
Applicant for Master of Arts program in piano performance
California State University, Sacramento
Violinist Mary Blanchette
Violinist with Sacramento's Philharmonic, Opera and Ballet since 1974.
Studied at Eastman School of Music and University of Illinois.
Teacher of elementary music in Arlington, VA; San Antonio, TX, and 1975-2000 at Folsom Cordova Unified School District, and has taught privately.
Musician and member at the Unitarian Universalist Society of Sacramento.
Celebrating 14 years as the Central Valley's only nonprofit provider of domestic violence prevention, community outreach, advocacy and shelter services for Asian and Pacific Islander women.  A freewill offering will also be taken.
Dear UUSS members, friends and music lovers: I hope you can Tweet this, post it on Facebook, or forward it to all who might love this opportunity to hear Ina in recital with Mary!

— Rev. Roger