Fourteen UUs Helping Heal The American River Parkway
Posted on January 15, 2017
When leaving home Saturday morning to help clean up the UU mile of the American River Parkway I was in bright sunshine, but upon arrival at our meeting place, there was only fog… until the thirteen delightful people below showed up with enough sunshine in their attitudes to light up the UU mile!  In the crew this morning were (from left in the photo) Margaret Licha, Wayne Bell, Tamara Olson, Clair Urness, John Abbott, Patricia Pratt, Seth Bell, Don Thornberry, Lloyd Crockford, Jeff Voeller, Betty Crockford, Cass Sove, and Roger Olson.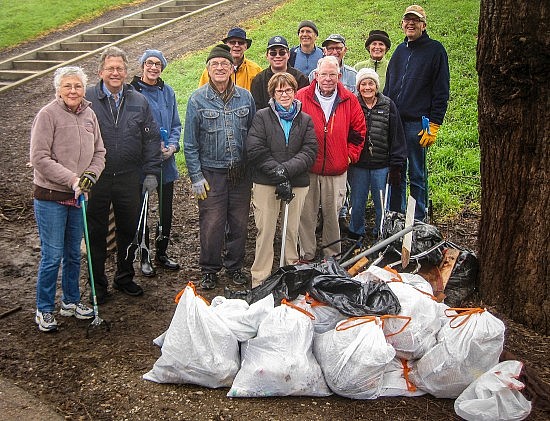 With most of the usual territory of our mile still under water from the recent rains, these resourceful and diligent folks still retrieved a surprising amount of trash in our one-hour "Cleanup-Lite".  It will be interesting to see how conditions change for the next second Saturday cleanup on February 11.
Many thanks are due and given to each one of our team members for their work this morning, and for the pleasure of their company and conversation afterward.
With much appreciation,
Dave
There are 2 Comments on this post.