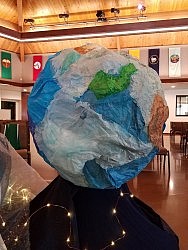 "The wide universe is the ocean I travel, and the earth is my blue boat home."
We celebrated Earth Day 2017 this morning during our service for all ages. We shared joys and concerns about our beautiful earth and considered our commitments to the challenge of protecting our world for future generations.
Thanks to members of the Earth Justice Team for the ribbons.
Thanks to Molly for our fabulous globe!