Dedication Ceremony for Sanctuary Sculpture "Embraced"
Posted on September 11, 2016
Sunday during the Sept. 11 worship service we had a brief dedication ceremony  for a new gift of art on our wall. With the title of "Embraced," it is a beautiful metalwork sculpture by Patty Taylor Gutermute & William Ishmael. We give our deep thanks for their generous gifts of time and talent in designing and crafting this for the sanctuary wall and to John McMillan and other volunteers who hung it on Friday and Saturday. See the text of our dedication ceremony below.
Dedication Ceremony for Sanctuary Sculpture "Embraced"
written by Roger Jones, Unitarian Universalist Society of Sacramento
Sunday, September 11, 2016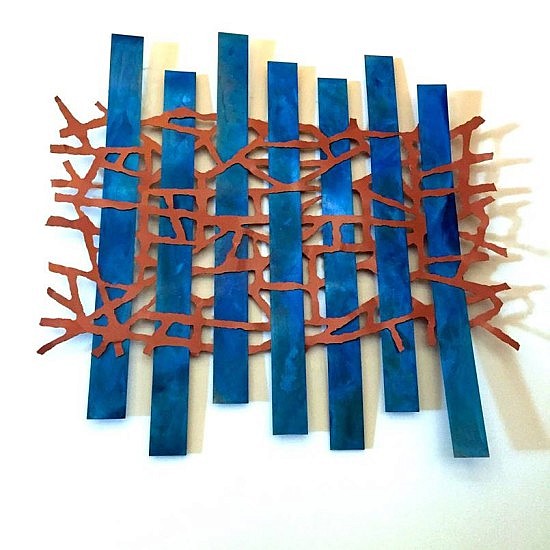 Artists: Patty Taylor Gutermute and William Ishmael. Photo: Peter Killian.
Rev. Roger Jones
Today marks one year since we dedicated the renovation and expansion of this building, our home and the base for our work beyond these walls.  And on this day, we receive a new work of art for this room. We give thanks for the donation of their time and glorious talents to our member Patty Taylor and her artist friend, William Ishmael. On the poster in the back you can read about Patty's proposal to the Board and Aesthetics Committee, William's generous agreement to collaborate with her, and John McMillan's good work in mounting the sculpture. Today we dedicate this gift of art.
Rev. Lucy Bunch
Patty says the inspiration for this piece came to her in April of this year during our Earth Day worship service. She was thinking of our beautiful planet and the web of interdependence which embraces it, and embraces all of us.  The seven blue strands reflect our seven UU Principles. We hold them as guiding values and aspirations. The web holds the principles, and the principles hold us, together in community.  Hence the name, "Embraced."
Rev. Roger Jones
Patty cut the web from sheet metal. Then it was powder-coated with a copper metallic finish.  Then William, who is known for his beautiful enameled pieces, fashioned the seven blue metal strips, which they both wove into the web.  We give thanks to them for this work.
Rev. Lucy Bunch
May this work remind us that we are embraced in community and held in the web of life.  May it bless every worship service, wedding, memorial service, art show, retreat, youth group sleepover, performance, class discussion, congregational meeting, and celebration to be held in this space.
Congregational Response
We dedicate this gift of art.  May it celebrate the embrace of this community.  May it inspire us to care for the web of life.
May it welcome every person who enters here for the first time.  May it embrace all of us with a sense of beauty, peace, and hope.
We dedicate this gift of art.  Blessed be and amen.
There is 1 Comment on this post.