Evening Hike, Sunday June 12, at 7 PM, Johnson-Springview Park, Rocklin
Hike at Johnson-Springview Park, Rocklin
Sunday June 12, 2016 at 7 PM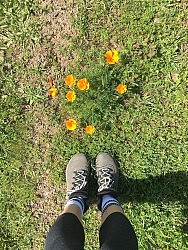 Join the Walkin' Boots on a gentle 2-mile walk at Johnson-Springview Park in Rocklin. The park is easy-to-get-to and has many trees and wide grass/gravel/dirt trails that circle and wind throughout. We will walk along a creek and visit several geological points of interest in the cooler and quieter evening air.
Hike leader: Nancy Flagg, Email at
Hike location: 5480 5th Street, Rocklin. Meet at the end of the parking lot near the tennis courts and by the sand volleyball court.
Distance: 2 miles
Difficulty: Easy, nearly flat.
Amenities: Restrooms and water fountain not far from the starting point.
Special features: Natural springs, plutonic rock grinding stone, disc golf, tennis, creek, dog park, children's playground.
Who can go? Adults, children with adults (no strollers) who can walk at up to 3 mph pace, dogs on leash. Wear tennis shoes or hiking boots, sunscreen and hat. Bring water.
Rain cancels? Yes. Check for status updates on the webpage or send email today to to be put on the contact list for this hike and for future hikes.
There are 4 Comments on this post.