Social Justice Movie Night Thursday January 5.
Posted on December 30, 2016
Join us at 6:30 Jan. 5th in the Welcome Hall for our January social Justice movie – My Uncle
We will take a visit to the lighter side this month with the french movie Mon Oncle (my uncle), by Jacques Tati. This film won the Academy award for Best Foreign Language film.   Come join us for laughter and discussion.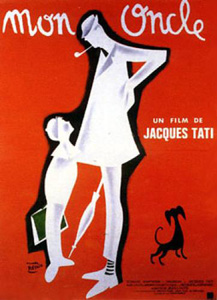 Mon Oncle  tells the story of  M. Hulot a dreamy, impractical, and adored uncle of nine-year-old Gérard Arpel, who lives with his materialistic parents in an ultra-modern geometric house and garden in a new suburb of Paris,  just beyond the crumbling stone buildings of the old neighborhoods. Gérard's parents are entrenched in a machine-like existence of work, fixed gender roles, the acquisition of status through possessions, and conspicuous displays to impress guests. By contrast, Monsieur Hulot lives in an old and run-down city district. He is unemployed, and gets around town either on foot or on a  motorized bicycle. Gérard, utterly bored by the sterility and monotony of his life with his parents, fastens himself to his uncle at every opportunity.
Trailer:
There is 1 Comment on this post.
Our Group's Page
Contact Us