January Theme: Roots and Wings
Posted on January 6, 2017
Welcome to our January circles.  This month we will explore roots and wings: the people, ideas and things that ground us and those that inspire us.
For our first session, you will select an image to help you reflect on what grounds you and gives you strength.  Those of you how have been in circles before know the power of the images to open new ways of deepening.    In our second session will explore the heroes that have inspired us.
I have selected two supplemental readings for this month – both by well-known UU authors and ministers. The first is from Victoria Stafford,  minister of the White Bear UU congregation in Minnesota.   In the sermon I selected, she tells the story of how a women grounded herself in a crisis situation.   In Treetops – UU minister Meg Barnhouse talk about how she was inspired by the activist Julia Hill, who lived in a tree to protect it from being cut down.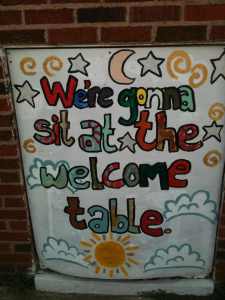 I want to share with you one of my heroes,  the UU minister the Rev Ron Robinson from Tulsa Oklahoma.  Rev Robinson was the minister at a suburban Tulsa UU congregation when he felt called to serve the community where he was raised. Turley in North Tulsa is one of the most economically challenged areas in the state. Ron returned to the area and leased a run-down church to serve as a community center, place of worship, clothes closet, and all around place of love and encouragement. He and his spouse invested much of their income into creating what he calls "The Miracle Among The Ruins:  The Welcome Table Community Center, GardenPark and Orchard, Corner Store Free Pantry, Art Studio, Clothing/ThriftStore.  Ron is one of my heroes because he is living his UU values to the fullest sense- not just talking about them but living with and serving a community in need.  I encourage you to check out his blog. You can also read about him in this article from UU World.
Have a great month,
Rev Lucy