New Building, new expenses, new revenue source! –by Sally White, Board of Trustees
Posted on October 12, 2016
It is exciting to be in our expanded, renovated facility…beautiful, functional, modern, and a great place to become a bigger part of our community through facility rental.  Recently, the Board of Trustees negotiated a partnership with Event Architects (EA), a local event planning company.  EA will secure additional rental clients and manage their use of the space.  This will assist us in meeting our goals for facility rent revenue, which in turn supports our ministries and community outreach.  Our Board members all reviewed the contract and received useful consultation and advice from an attorney in the congregation.
EA is a family-owned company specializing in venue searches, party planning, catering, and event detail management.  For over 20 years they have served the Sacramento region, and established a solid reputation in the community for delivering quality events and providing integrity in their business dealings.  Amy Phipps, President of EA and daughter of the founder of the Company, said our facility makes a great corporate venue for meetings.  She is currently marketing to many potential rental clients.  Our upgraded internet capabilities, large screen TV's, sound system, and lighting provide the kind of technology needed at business meetings.  The incredible Auditorium and Welcome Hall in particular, make comfortable and efficient rooms for meetings and private events.  The grounds surrounding the buildings are incredible places for outdoor events.  There are many landscaping goals on the plans that have yet to be implemented.  We can fund these improvements with additional generosity by UUSS members and friends as well as a growing rental base.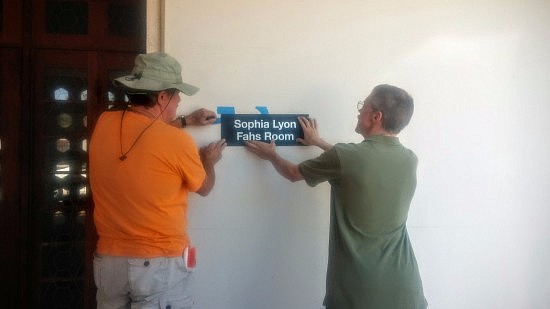 Working very closely with UUSS Facilities Coordinator Stanton Vedell and his staff, EA ensures that all events are safe and the facilities used are left as found.   For its own revenue, EA provides fee-based professional event planning, execution, and management services to the renters they find for us.  Our commitments to current renters will continue as usual with the support of our facilities staff.  Stanton and his staff will continue to serve those UUSS committees and members who wish to use UUSS facilities. You can make room reservations at this link.
If you know non-members or outside organizations who seek a wonderful venue, you may refer them with confidence to Event Architects.  If you have any comments or questions, please feel free to let your Board of Trustees know.  Thanks to everyone for your continued enthusiasm and support for our home and our community.